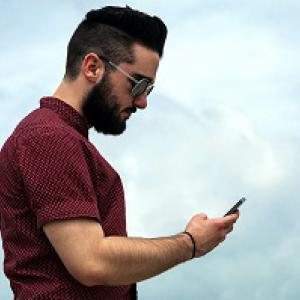 Guest Post from Suzanne Jones, The Trends Observatory
Over 80% of people aged 18 to 44 in the UK own a smartphone, as do nearly 75% of those aged 45 to 54.
Many aspects of our daily lives are affected by, or initiated through our smartphones.
This includes our personal life, social life and work life.
Here are just some examples of what we can do with our phones: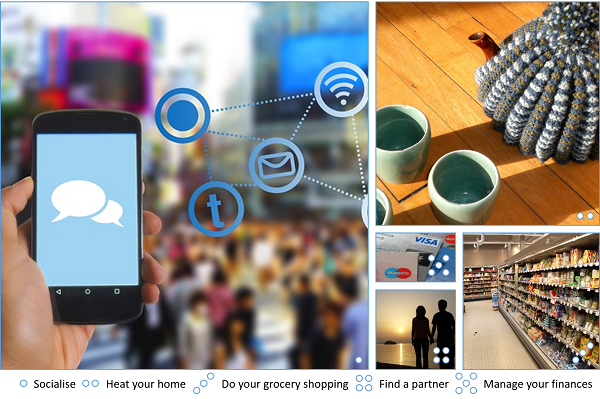 Smartphone usage
Because so many of our activities involve smartphones, our use of them is also increasing – we're using them more often, for longer, and at all times of the day.
Today, one out of every six people checks their smartphone over 50 times per day and most of us look at our mobiles at least 11 times per day.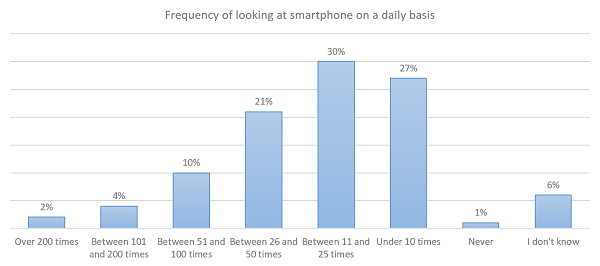 (Source: Deloitte, Mobile Consumer Report, April 2015)
Smartphones have also recently become the most popular way for consumers to access the internet, which is a landmark in terms of consumer behaviour. We're not only using smartphones more during the day, we're also using them earlier in the morning and later at night. Most of us now reach for them within an hour of waking up to find out what happened overnight:
This diagram shows the interval between waking up and looking at smartphones (not including use as an alarm clock):
(Source: Deloitte Global Mobile Consumer Survey, UK edition, May 2014)
Consumers love convenience – which is one reason why smartphones are so popular. They make many different items and activities very accessible, and consumers are now used to that convenience. It has in turn raised their expectations in terms of interactions with businesses, and they're not impressed when a website doesn't work well with their smartphones.
Although consumers have been opening most of their emails via their smartphones for some time, conversions to sales haven't followed the same pattern – 42% of our emails are opened via our smartphones but only 19% of conversions are through these devices.
Implications for business and for insight
These changing smartphone habits bring several important implications for businesses:
Firstly, if a consumer-facing company doesn't have a smartphone-enabled website, it needs to get one as soon as possible!
Secondly, digital marketing (especially emails) need to point easily to conversions:

Emails should be designed to be read by smartphone and (as they are often read early in the morning!) any messages must be clear and uncomplicated.
Emails should point clearly to a sale or have a clear call to action, which at the moment is either often missing completely, tiny when viewed by smartphone, or buried in the content.
Here are a few examples of marketing emails that I've received recently.
Some are clearly designed for smartphone reading but none of them has a smartphone-sized 'call to action' visible from the initial view: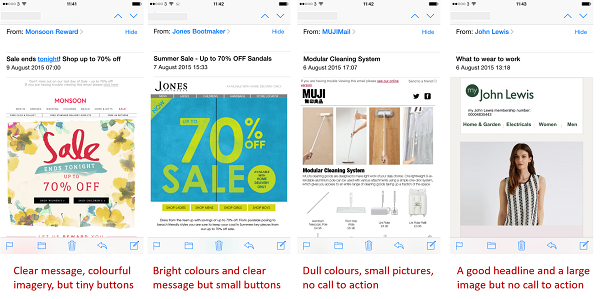 When trying to understand consumers or conducting consumer research, there are a few issues to consider in this 'smartphone-first' consumer environment:
Consumers will become even more impatient in the future – especially if they have to read poorly executed communications at 7:00am. If you're testing communications, this needs to be taken into account.
Even complex processes will need to start making the transition to smartphone-friendly versions. Consumer process research needs to include smartphone users as a matter of course - whether systems are designed for smartphones or not, consumers will try to use them to complete the transaction.
B2B transactions will follow on tablets and smartphones - even if your company isn't consumer-facing, it won't be long until you feel the impact of this change.
Smartphones are becoming our constant companions and our usage of them will only increase as more of our daily lives and tasks are incorporated into smartphone apps and functions.
This will affect our expectations of the companies we're dealing with and also our attitudes to the information we receive from them.
Businesses who want to engage consumers will need to think through the implications of these changes in usage in terms of their own behaviour and communications.