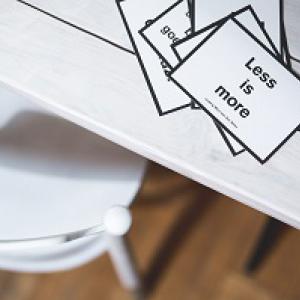 Guest Post from Caroline Florence, The Insight Narrator, September 2015
Validating your ideas, claims or points of view with facts and information demonstrates your credibility and authority to your audience.
Using data, expert interviews and real examples can teach the audience something new that is grounded in something real and tangible.
But beware - too much data can be a turn-off and is the fastest way to lose your audience.
This article therefore contains some hints and tips that are designed to help you to use data effectively, without resorting to information overload.
Good evidence is critical: I've seen many ideas or recommendations shot down because stakeholders or clients were able to pull the data apart.
I've even seen ideas with no supporting evidence being taken forward at the expense of those with confusing evidence, because no one was prepared to take a risk with potentially conflicting details.
Things to consider
Is there any evidence that justifies your point of view?
Is this evidence reliable?
Is there any conflicting evidence?
Why do you believe the evidence will illuminate the topic area?
How does the evidence help to answer the business question?
Validation without information overload
You can quickly amass a significant amount of relevant information that's useful for your content.
You then need to analyse the data and pull out the key statistics that help to validate your content, whilst ensuring that you don't lose your audience by using too much data.
Here are some ideas that could be helpful:
Use reliable sources. There's nothing wrong with online search and research tools if you know what you're looking for and can judge whether the results are reliable. There are hundreds of reliable companies producing market reports and trend reports. Different companies are often experts in different sectors, so it pays to know the most credible providers in your industry.
Most sectors have trade publications that specialise in news digests and editorial articles on key topics. Find out which ones are seen as reliable by your audience and refer to these in your research. Listed companies have to produce company reports for shareholders and often include wider information as well as company-specific information. These are often reliable sources of financial information and market analysis. Regulated sectors often have regulators that create and publish their own reports on the market or consumer trends, using reliable data sources.
Extract meaning from the data. Anyone can take facts and figures that they've found through a search and add them to the content. It takes real skill to extract the meaning from the data and use this in a way that truly supports your claims. The best way to extract meaning is to connect the data to the bigger picture by asking yourself why it's useful, how it helps to answer the question and why it's insightful to your audience
"What's it going to do and so what? And I think we need to do "So what?" almost at the end of each slide. And if it's not going to do anything, just take it out. Because otherwise you just take up somebody's time and you'll never get back in again" - Kate Scally, Head of Marketing and Communication, DMG Media.
Triangulate your data sources. Triangulation can give greater validity and credibility to your evidence and helps you to identify any potential conflicts that might cause confusion or damage to your argument. One source of data might be considered inadequate, so cross-checking enables you to quote multiple sources that offer similar perspectives. Allow time for patterns to emerge.
Provide some context around your data.
"I need some context. When I'm taking in a new piece of information, I'm slotting that into a view of the world. So if I am taking in a piece of information on something I don't know as much about, I want to be presented with a little view of the world before I think about the evidence itself" - James Wycherley, Director of Customer Value Management Analytics, Barclays Bank.
Only include what you need and nothing more. It's tempting to include lots of wonderful data to support your argument - but restrain yourself and only include evidence that's truly meaningful. Just because you've done your homework and conducted thorough research to support your claims, you don't have to show it all to prove it. Work out your main points and use the right combination of data to support these. There's nothing worse than death by numbers! If you really want to include more, then create a separate research report and add it to your website, intranet or blog site. You can then refer to it in your main content and give the audience an opportunity to read it if they would like to.
"You need to work out how much evidence is sufficient to get the point across. Do I need to show three things? Do I need to show five things? Or is it just one thing I need to show? Is all the analysis that you're doing necessary? You can always put more evidence together. And for people in companies like mine, with lots and lots of access to great quality of data, I can put a 200 slide deck together without scratching the surface of our capabilities - but it doesn't help people. Being pretty strict with yourself about whether the audience will get what I'm saying and only give them the evidence they need to move forward. Often people will put too much in when it could go into an appendix at best or removed altogether." - Matt Baron, Global Insight Consultant, Kantar Worldpanel.
Further reading
Do you want more hints and tips to help you create great content that clicks?
Would you like to hone your existing content skills by accessing high-impact tools and techniques that you can apply straight away?
Then try: 'Content that CLICKS: How to create great content in 20 steps'.
This book has been written for business executives, managers and leaders who want to improve their cut-through and impact with their colleagues, stakeholders and clients.