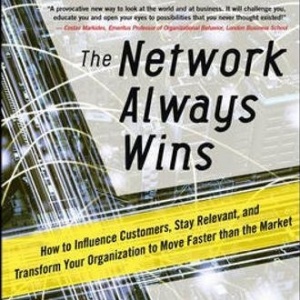 We are all operating in a rapidly changing environment and organisations need to stay ahead of the game to succeed. 
In his book 'The Network Always Wins', Peter Hinssen asks how your business can keep up in this accelerating, fragmenting and ever-changing world. 
Hinssen's book will encourage you to review how Insight should be guiding your organisation in these turbulent times, and may well increase your general knowledge at the same time!
The challenge
The ever-increasing pace of change is a challenge for us all. Peter Hinssen takes us through a wide range of stories and anecdotes from history to science and astronomy to illustrate this. He outlines our desire to be able to model everything, only to find there are too many imponderable factors which could suddenly blow our models out of the water. There was a time when all companies aspired to a 5-year strategy and plan. Not anymore. Nowadays they need a much more dynamic approach to strategy.
Digital disruption is turning markets upside down. Consumers no longer follow traditional patterns of behaviour and communication, because their options are infinite and they are being influenced from all sides. Consumers are fully networked and interacting amongst themselves. Your marketing communications are like drops in the ocean alongside all this.
Networks are evolving, complex, adaptive systems – and they are everywhere. If your consumers are fully networked, if they keep up with and fuel the pace of change, then your organisation also needs to be fully networked internally, to match that pace.
Peter Hinssen uses the analogy of the evolution of stars to highlight the evolution of companies, saying nothing is here for ever. With every change, which phoenix will rise from the ashes? Will it be your organisation?
Insight making sense of the VUCA world
Hinssen references the VUCA world, where VUCA stands for:
Volatile
Uncertain
Complex
Ambiguous
Insight can help make sense of the VUCA world, by supporting your organisation to respond appropriately and keep up with the pace of change. You need to continually listen to customers and understand them, and help your company build their trust and meet their changing needs.
As an antidote for this VUCA world, where our old models no longer provide the answers, Hinssen proposes a new acronym, VACINE, as a guideline for organisations.
This stands for:
Velocity
Agility
Creativity
Innovation
Network
Experimentation
His message here is that our organisations need to be fully networked, fluid and agile internally, to have any chance of keeping up. Experimentation and innovation need to be built in throughout your company, responding to emerging trends and needs.
Traditional structures are simply not sufficiently agile for this. The outside world gets its pace from being networked, and he says that your organisation needs to mirror this internally too, in order to move in the right direction and get ahead of the market.
How can your Insight team help direct VACINE for your organisation?
Just as information flows rapidly around the external network, we need to find a way of increasing its flow and usage internally, for relevant and rapid innovation. Decision makers need timely insight at their fingertips, so that they can continually adapt and keep their goods and services relevant as needs and markets evolve.
This raises 3 key questions for our Insight functions:
Have we invested sufficient time in collating accumulated customer knowledge and cultivating big picture insights which are relevant to many key management decisions?
Do we spend sufficient time planning our influence and communication strategies, building our own networks to make it easier to drive decisions?
Is there an overall Insight strategy in our company – a written document which examines the various ways in which Insight could make a real difference to our companies, the option selected, and the implications for capability development?
How can I learn more?
If the network does always win, why not join the IMA's Network of progressive Insight leaders and their companies? We can share the ways in which other Insight teams have found success, benchmark your current position, and discuss ways in which you can have more impact.
The IMA's current best practice project is Insight Strategy – how team leaders can develop a commercially driven strategy to enable organisations to get the very best from their Insight activity. We will be exploring this at our next Insight Forum event in London on Wednesday 12th September and will publish a report later in the year.
We are currently offering 100-day free corporate membership trials so it would cost you nothing to find out more. Please contact us if you are interested.