We run in-house training workshops for Insight teams, based on our best practice work with over 50 Insight teams across a wide range of blue chip companies. We can help you transform your Insight team into a more proactive and productive team, prioritising and focusing on more strategic work.
Our foundation course is an Insight Transformation workshop:

Inspire and enable your team to move from service provider to business partner
Define your mission and mandate, and review ways of prioritising your agenda, to focus on the more valuable areas
Consultancy models and approaches to help individuals, and the team as a whole, to be more effective and have more impact.
We then have 3 further core workshops to up-skill your Insight team:
Insight Generation:

Consultancy ways of working to identify the key businessissues behind the requests
How to work smarter not harder, and to come up with clear business options and recommendations
Tools, checklists and approaches to help you unearth insights that will really make a difference to your organisation.

Insight Communication:

​The importance of strong communication to ensure your insight makes a difference
Approaches to help you gain traction with key stakeholders in advance, to make them receptive to your insights and recommendations
Tools and techniques to structure and deliver more influential outputs.

Insight Commercialisation:

​Proving the value of insight and making the business case for the resources you need
Hands on practice in using core statistics and estimates to produce valuations
How to speak the same language as the business and be more commercial, to add more clout to everything you do.
We recommend all these workshops for in-house teams in groups of 5 to 15 delegates.
Once you have the essentials in place, we have a further menu of 8 advanced courses, which focus on specific aspects of the insight role.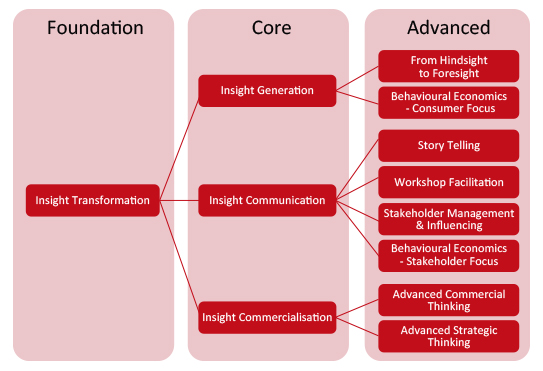 Contact us to discuss how we can help you inspire and up-skill your team to greater success.