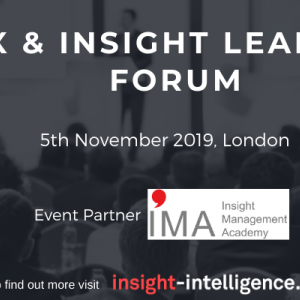 The IMA is delighted to announce that we are again partnering with the CX & Insight Leaders forum, and we can offer all members of our Insight Community a 20% discount on tickets, with FREE entry for the IMA's corporate members.
The 4th annual CX & Insight Leaders forum focuses on the latest and best customer insight and experience strategies. It will be held on Tuesday 5th November in central London, featuring keynote addresses, inspiring case studies, panel discussions and round-tables all aimed at learning and sharing best practices to improve the way companies drive business success through customer insight and intelligence.
The IMA's Chief Executive, James Wycherley, will be speaking during the afternoon session.
For further information on the event, please click here, and to take advantage of the 20% ticket discount or the free member offer, please contact us.
We hope to see as many of you there as possible, so please come and say hello at the IMA's exhibition stand!
James Wycherley & Jane Woolley