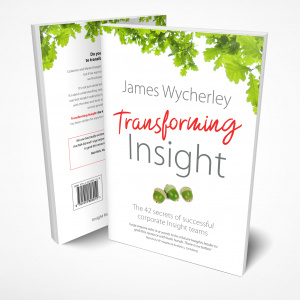 Do you have the ambition to transform your Insight team?
Customer and Market Insight has the potential to transform any organisation, but if we want Insight to transform our companies, we first have to transform our Insight teams.
It's not just about better data, analytics and market research. It's about understanding, mindset and behaviours, developing a vision for the role that Insight could play in your organisation, and then equipping yourself with the ideas and tools to transform your Insight team from a reactive, service provider to a proactive, strategic driver.
Transforming Insight: the 42 secrets of successful corporate Insight teams has been written for anyone who has the ambition to embark on that journey.
'No one had really written a guide book for Insight management until the IMA did and I urge anyone who is or wants to be a future Insights leader to grab this resource with both hands. There is no better!'
Nick Rich, Vice President, Insights & Analytics Carlsberg
"It's an admirably realistic and aware book that shows an understanding of the current, sometimes messy realities of the modern insights function while also striving for attainable future efficiencies rather than the only-in-a-perfect-world goals that many business books urge readers to pursue. He acknowledges that researchers have accomplished a lot in terms of raising the discipline's status and profile and that now is a great time to be in the industry but there is also more that can be done.
Client-side readers will no doubt find themselves nodding in agreement throughout, as the book is clearly based on and drawn from the work experiences of IMA members, who have gathered together in regular forums since IMA's founding in 2004."
Joe Rydholm, reviewing Transforming Insight for Quirk's magazine
Quick links
Please click here to buy now direct from the IMA
Please click here to read the book reviewed in Quirk's magazine
Please click here to listen to Ray Poynter's interview with the author, James Wycherley
Please click here if you would like to contact the IMA to purchase multiple copies for your Insight team
Please click here to listen to the new Transforming Insight podcast