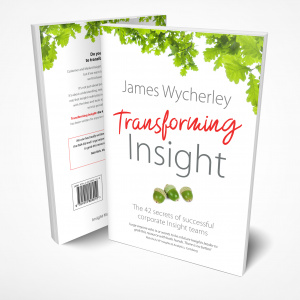 The IMA's new book is now available worldwide!
Transforming Insight: the 42 secrets of successful corporate Insight teams summarises 16 years of learning in a book that has been written for anyone who has the ambition to see Insight make a difference in their organisation.
The book is organised into 5 sections:
Identifying value: looks at the core purpose of an Insight team and the ways we can identify value for our organisation by generating new insights and developing customer knowledge
Driving change: explores the principle that there is no point doing any research or analysis unless we then use it to drive change through communication and influence
Leading Insight: challenges perceptions of the role of the Insight leader and the requirement for us to design and deliver a top-down plan for leading Insight strategy and people
Optimising impact: examines the positioning of the Insight team within the organisation and the critical role played by our department's contribution to sustainable commercial success
Moving forwards: suggests that the 2020 coronavirus pandemic has presented an unprecedented opportunity for Insight teams to accelerate their evolution then maintain their momentum
Each bite-sized chapter reveals one of the 42 secrets and can be read in less than 10 minutes. Whether you read the book end-to-end in a week, or use the 5-point summary on the last page of each chapter to inspire you at the start of a new day, I hope that the ideas in the book become as pivotal to your career as they have been to mine.
Please click here to order your copy direct from the IMA
Please click here to benchmark your Insight team for free using the same 42 principles
Please click here to select training for your Insight team
James Wycherley
Chief Executive, IMA