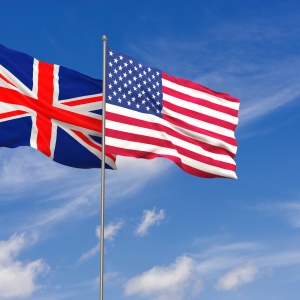 "She sounds like she's from the Harry Potter films – I could listen to her all day!"
I took this as a good omen for my Insight Communications training trip to USA this week.
Unfortunately, we've probably all experienced situations where our initial communication is not so positively received, and maybe we can't work out why.
We certainly don't have to be from different sides of the pond to have trouble communicating effectively with each other. Sometimes, within our organisations, communication between Insight teams and their stakeholders can make it feel as though the two parties are speaking different languages! So how do you ensure that your Insight communications aren't lost in translation?
This has been an interesting trip, running Insight Communications workshops in Chicago and in Long Island, New York. The essence of my workshop was how to use the SCQAB structure for communicating Insight. Of course, SCQAB is a powerful framework for structuring a succinct and effective argument to put forward your point of view in any situation. Insight Communication is just one application.
We'd be the first to admit that this is not new news. We first became aware of this approach a few years ago in the book 'The Pyramid Principle', written by the American Barbara Minto. She designed the SCQA structure to train young consultants at PA Management Consultants to deliver succinct and effective proposals and presentations. She went on to write the book and to train people in all the major consultancies in both USA and UK. Despite this rich heritage, my client couldn't find a US based training provider, and I felt privileged to step in.
SCQA stands for focusing on the Situation (scene setting) and the Complications that lead you to the key business Question that you are facing. This is then answered with a clear Answer to solve it, ideally supported by around 3 key messages outlining how and why. This gives you a 'top-down' approach for proposals and for presentations and reports. You can then support with evidence as appropriate.
Applying SCQA early on in an Insight project can also help to really nail the business issue. As the project progresses, having identified and articulated the key business question, it gives clear focus to your data gathering and analysis.
More recently, we have added the B – what's the benefit of solving this issue? What's the size of the prize? This helps us to seek, find and share a commercial solution, which gets people sitting up and taking notice. Also, for training purposes, SCQAB is easier to remember than SCQA. It sounds like squab – which is a baby pigeon, although not many people know that!
So what have I learned on this trip?
This approach to Insight Communications seems to go down as well in North America as it does in the UK and Europe. Ultimately, my workshop attendees felt that this SCQAB approach would work well for proposals as well as for structuring top-down presentations.
The US based Insight team I was working with talked about the many challenges they face in making sure their Insight communications have impact. Perhaps unsurprisingly, many of these challenges are just the same as those we hear regularly in our conversations with IMA corporate members in the UK and Europe.
Top tips for improving your Insight communication
Start with your audience. When you're planning your communications, always have your audience at the front of your mind. Where are they in their understanding of this issue? Start there.
Structure. If you've used the SCQAB framework throughout an Insight project to frame your conversations with stakeholders, nail the business issue and identify the key questions to answer, you'll find that your communication effectively writes itself! When debriefing your stakeholders at the end of the work, walk them through the SCQAB structure step by step and your findings and recommendations will naturally follow.
Simplify. Understand what your key message is, and get rid of everything else. Declutter your communications by examining every element on the page and asking yourself, does this help to get across my key message, or does it get in the way?
Stories. The concept of finding million dollar stories is particularly effective. Also, it rolls off the tongue better than 'million pound stories' or 'million euro stories', don't you think? What we mean by this is what would be the financial impact of your recommendations? Would there be a cost if no action is taken? It doesn't have to be a million dollars, but you should always know the 'size of the prize' and use it to drive action.
Make it stick. Find creative ways to make your communications memorable. There are a number to ways to do this: for instance, use storytelling, real life examples, and alliteration; deploy innovative communication methods such as posters, podcasts or videos. Find new ways to bring it to life.
Written by Sally Webb
How the IMA can support your Insight team
If you would like to find out more about how to improve the effectiveness of your team's Insight communication, our best practice report on this topic provides detailed guidance.
If you believe that your team could benefit from learning more about how to improve the effectiveness of their Insight communication, we can offer a 1 day training workshop. Training can of course be tailored to your organisation's specific needs, and flexible consultancy offered to any Insight leader seeking guidance. For more information on our range of training workshops click here.
If your organisation is a member of the IMA's Insight Forum, we can arrange an Insight communications training workshop for your team as part of your membership benefit of two company visits per year. Please contact us if you would like to find out more.