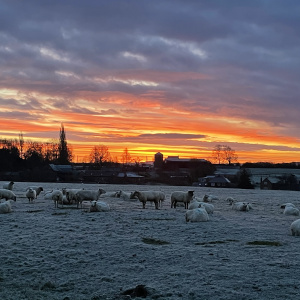 I think we all began January with high hopes that 2021 would be a lot better than 2020, but many of us have been feeling a bit disappointed.
Around the world coronavirus cases have continued to increase and lockdowns have become even more restrictive. In the USA we all saw those unprecedented scenes at the Capitol. And closer to home, many professionals in the UK have had to put their new year's resolutions to one side and focus on the stressful reality of home-schooling. Welcome to 2021!
So, in today's 5 Minute Insight, I want to ask you to stop and reflect while I take you back to those days just before the new year began and you might have been thinking about what you wanted to achieve this year. I'd like to share one of my own resolutions, formed on a frosty but beautiful early morning dog walk, as the sun rose over the countryside where I live.
The night before my family had been watching one of the Lord of the Rings films, and this quote was going round my head:
"I wish it need not have happened in my time," said Frodo.
"So do I," said Gandalf, "and so do all who live to see such times. But that is not for them to decide. All we have to decide is what to do with the time that is given to us."
The time that is given to us
This message - of not worrying about the things we cannot control, but making a conscious decision to use the time that we have to best effect - resonates on many levels.
For a start, it has become a central principal of most self-help manuals, from Stephen Covey's Circle of Concern and Circle of Influence to Steve Peters' Truths of Life in the Chimp Paradox. It has echoes in the Serenity Prayer used by Alcoholics Anonymous and others to restore a sense balance and self-awareness. All are agreed: for our own mental wellbeing, it's imperative that we focus on what we can control, and not obsess about the things that we cannot.
But this message also works at an organisation level, and 2020 provided multiple examples of enlightened organisations accepting that their previous business models were not going to work, and instead adapting as best they could using their assets and core skills. One example was my cousin's gin distillery in Manchester which was transformed into a hand-sanitiser production factory; and our own organisation, the IMA, moved all its Insight forums and training online so we could continue to support our members during the lockdowns.
However, the level I'd like you to think about today is that of the Insight team, and the way we consciously make choices about how we spend our time at work.
The time that is given to Insight teams
When the Insight forums first met in 2005 it was recognised that nearly all Insight teams worked as reactive service providers to other departments. We all tried to be professional, and develop better research and analysis skills, but it was hard-coded into our ways of working that our time was not really our own and our success should be measured by how well we responded to other people's requests.
16 years later and many Insight teams are still reactive, but the most effective Insight teams know that this doesn't really work. If we are to identify value for our organisations and drive change within them, we have to be proactive.
We need to be proactive on every level, whether that's our Insight leaders carving out time to reflect on an Insight strategy, the whole team meeting to discuss how the position of Insight can be improved, or individuals making conscious choices to invest more time joining the dots and engaging with decision-makers. I suspect that many of us know where we can add most value, but we're often so busy that we fail to make an active choice to focus on those things.
So, before the unrelenting barrage of bad news drowns all our good intentions for this year, let's remind ourselves that we didn't choose the circumstances in which we had to do our work last year, and we won't be able to control events this year either.
But, as the sun rises every morning, we can all make an active decision about how we will use the time that we are given. If you decide that you want to use your time to build an Insight-driven organisation, then the IMA will choose to support you in any way we can.
James Wycherley
Chief Executive, IMA
Quick links
Please click here to read about James Wycherley's new book, Transforming Insight: the 42 secrets of successful corporate Insight teams
Please click here if you are an Insight leader and would like to know more about the Insight forums
Please click here to see the latest interactive training workshops for your Insight team members
Please click here to benchmark your corporate Insight team for free
Please click here to contact us