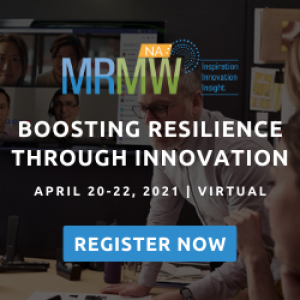 As part of our ongoing partnership with major Insight conference providers, we are delighted to announce that the Insight Management Academy will be taking part in MRMW North America Virtual 2021. 
The event will take place on April 20-22, and will bring together industry experts from McDonald's, Panasonic, Microsoft, Google, Citi, Facebook, Amazon, Pepsico and Twitter to discuss best practices, innovations and new technologies that are driving the market research industry forward.
James Wycherley, CEO of the Insight Management Academy and author of Transforming Insight: the 42 secrets of successful corporate Insight teams will be a guest on a panel on April 22 discussing 'How are market research associations supporting the MR community in challenging times?'
As a client-side member of our Insight community you get a FREE pass - please contact us for details.
For more information about the event and to register, please visit https://na.mrmw.net