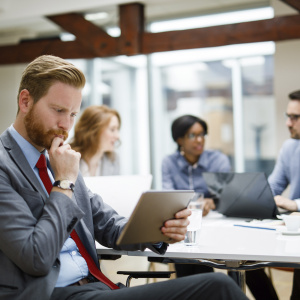 It's 11am on Friday morning, three hours before my weekly 121 with my line manager. 
One of the hottest days of the year, and now I've got that to look forward to! Great...
What will she ask me to do today?
There'll be a discussion about the market share analysis I've been working on, of course. Just remembered that she's away on holiday next week... hope she doesn't ask me to deputise for her and present it to the board!
Then there's the analysis I've just done on product sales by segment. Really enjoyed working on that one, but now she'll have another go at me for not having arranged a face to face meeting with the product director to discuss it.
And then, there's that ESOMAR Congress she was talking about at the team meeting yesterday. She was asking for volunteers, and when she looked around the table and said that some of us really must improve our networking skills, I had a horrible feeling she might be thinking about volunteering me for it.
Great! Can't wait...
Working in a world shaped by extroverts
It's confession time. I'm an introvert. 
Nothing unusual in that, of course. Psychologists think that about one in three of the population are more introvert than extrovert, and informal surveys and discussions at the IMA's Insight Forum in London suggest that it's a far higher proportion of Insight specialists.
The mix of introverts and extroverts might be affected by your ratio of analysts to market researchers. Analysts and quantitative researchers are the most likely to be introverts, our personality type often well suited to reflection and critical thinking. 
But all types of Insight expert are more likely to be introverts than our marketing neighbours – and the leadership group we report to.
The problem is not us. The problem is that many of the working practices that have developed in our offices over the last few decades implicitly favour extroverts over introverts. Let's think about the things we take for granted:
Designing a new office? Let's make it open-plan. 
Need new ideas for a project? Let's have a team brainstorm. 
Want to increase your chances of promotion? Volunteer to deliver a high profile presentation. 
Attending a conference to learn about market research? Let's build in plenty of time for participants to network with their peers. 
Writers such as Susan Cain have highlighted the extent to which our standard approaches to many of these issues sometimes feel like they have been invented by extroverts for other extroverts. They can leave introverts – or anyone who is just naturally shy or lacking in social confidence – feeling very uncomfortable. 
How can we introverts thrive in an extrovert world?
The IMA has been examining this topic, and in particular the issue of how we Insight leaders can get the most from the introverts in our teams. 
There are plenty of situations where introverts tend to have a natural advantage – like really listening to customers and stakeholders, and reflecting on their needs; or critically examining the options when we're facing a thorny business problem.
But in order to get the most out of all our team members, and make sure that we are not subconsciously discriminating against introverts, Insight leaders should reflect on the social aspect of the tasks we expect our analysts and researchers to perform. 
In particular, we should consider the modern focus on networking, the social demands of delivering presentations, and the barriers that some of us face when asked to pick up the phone or arrange a meeting.
So good luck in all your meetings today. And if you're the line manager rather than the analyst or researcher, give yourself time to reflect on your team member's personality type, and whether they will view the topics that you want to discuss in the same way as you.
If you have another 5 minutes...
The IMA has just published a 10-page Insight leader guide, IMP304: Influencing skills for introverts. It's the 20th title in our series of online guides, and if your organisation has a corporate membership then you or your colleagues can read them all now. Please click here, and remember that you'll need to log into our website.
If you'd like to consider a membership for your organisation, please contact us today, and we can tell you more about the options and the free 60 day trials now available.